Lord Nathaniel Charles Jacob Rothschild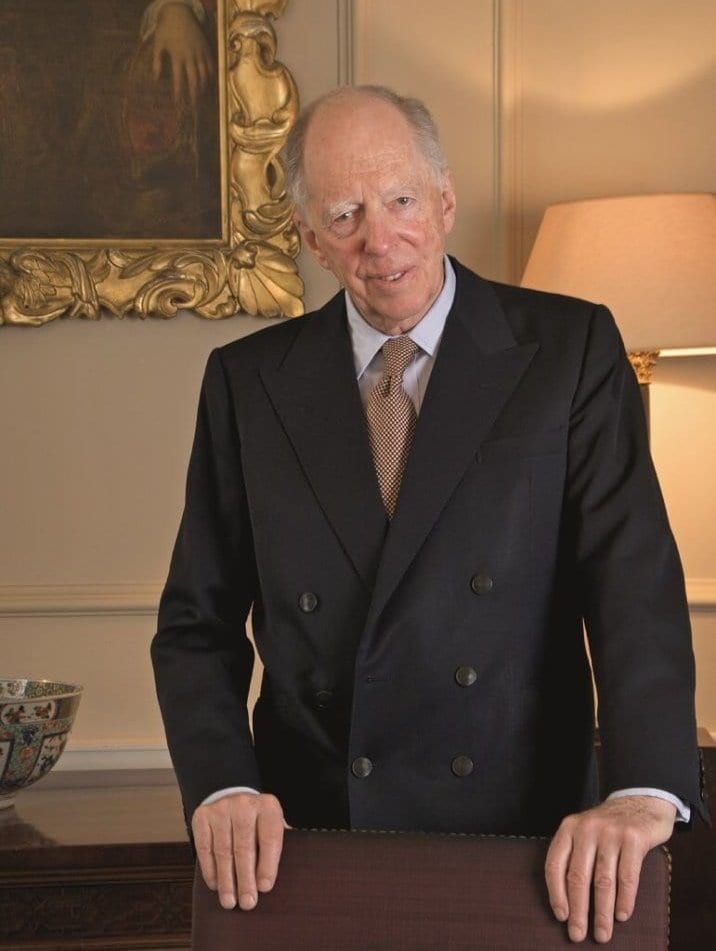 Lord Nathaniel Charles Jacob Rothschild was born into the English branch of the Rothschild Family in 1936.
The third Lord Rothschild, he was designated by his cousin, Dorothy de Rothschild as the heir to Waddesdon Estate in Buckinghamshire and as Chairman of Yad Hanadiv "the Rothschild Foundation".
Lord Rothschild (Jacob) is best known to the public for his support of art and heritage institutions in England, among them the National Gallery and the National Trust.
He chairs the family charitable trust that oversees the running of Waddesdon Manor, bequeathed to the United Kingdom's National Trust by James de Rothschild in 1957.
Lord Jacob Rothschild served as Chair of Yad Hanadiv from 1989 until 2018. He currently serves as the Foundation's President.
In 2018, Lord Rothschild's daughter, the Hon. Hannah Rothschild, assumed the role of Chair of Yad Hanadiv -a philanthropic foundation dedicated to creating resources for advancing Israel as a vibrant, democratic society, committed to Jewish values and equal opportunity for all its inhabitants.
Photographer: Hugh Palmer
Of further interest...
Accessibility
The Fragrance Garden
The Fragrance Garden, established in 1985, is the youngest of the Memorial Gardens. Seeking a way to enable people with limited or no eyesight to enjoy the flowers, Mme. Dorothy de Rothschild initiated the Fragrance Garden
For further information >>
Sustainability
Establishment of the Partnership for Regional Sustainability
In 2015, Ramat Hanadiv established the Partnership for Regional Sustainability, aiming to combine forces for the quality of life in the region.
For further information >>
Dining Here
Dining-The Picnic Site
The picnic area is located near the secondary parking lot. You are welcome to spend time there before or after your tour of the Gardens.
For further information >>