Lord Nathaniel Charles Jacob Rothschild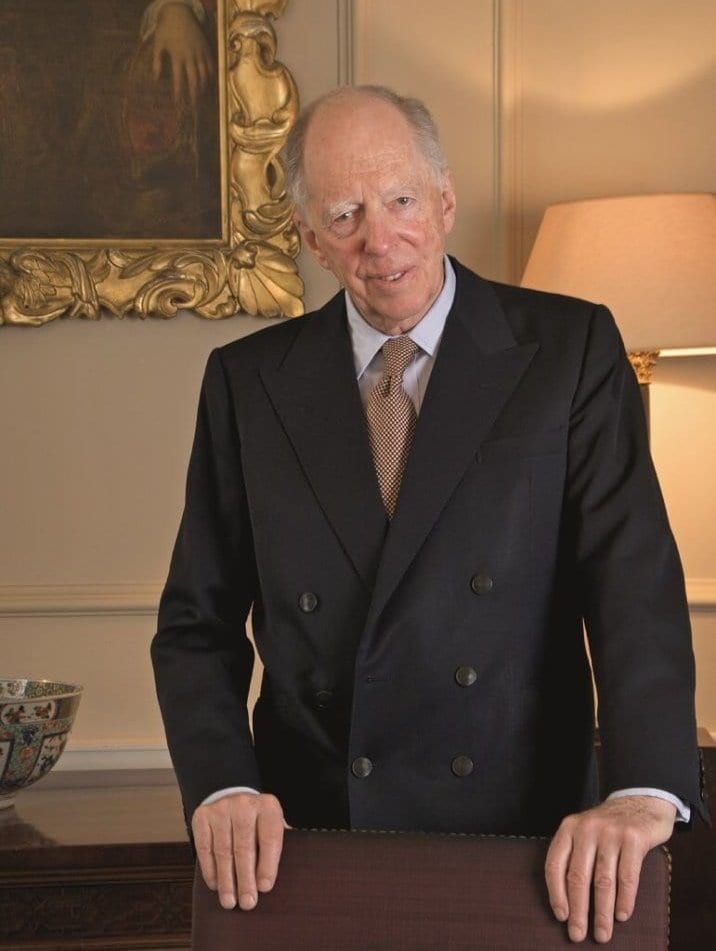 Lord Nathaniel Charles Jacob Rothschild was born into the English branch of the Rothschild Family in 1936.
The third Lord Rothschild, he was designated by his cousin, Dorothy de Rothschild as the heir to Waddesdon Estate in Buckinghamshire and as Chairman of Yad Hanadiv "the Rothschild Foundation".
Lord Rothschild (Jacob) is best known to the public for his support of art and heritage institutions in England, among them the National Gallery and the National Trust.
He chairs the family charitable trust that oversees the running of Waddesdon Manor, bequeathed to the United Kingdom's National Trust by James de Rothschild in 1957.
Lord Jacob Rothschild served as Chair of Yad Hanadiv from 1989 until 2018. He currently serves as the Foundation's President.
In 2018, Lord Rothschild's daughter, the Hon. Hannah Rothschild, assumed the role of Chair of Yad Hanadiv -a philanthropic foundation dedicated to creating resources for advancing Israel as a vibrant, democratic society, committed to Jewish values and equal opportunity for all its inhabitants.
Photographer: Hugh Palmer
Of further interest...
Accessibility
Physically Disabled in the Gardens
Many trails traverse the Memorial Gardens. We recommend this route, but you
can choose to walk another route.
For further information >>
Sustainability
Sustainable Gardening
Gardening in the previous century was characterized by high-maintenance garden design, ostentatious use of plants and inanimate elements foreign to the environment, and overuse of non-environmentally friendly fertilizers and pest control agents
For further information >>
Dining Here
Dining
To complete your Ramat Hanadiv experience, you are cordially invited to enjoy the culinary pleasures of Mata'im, the cafe-restaurant on our premises.
For further information >>