Pedal to Hear the Butterflies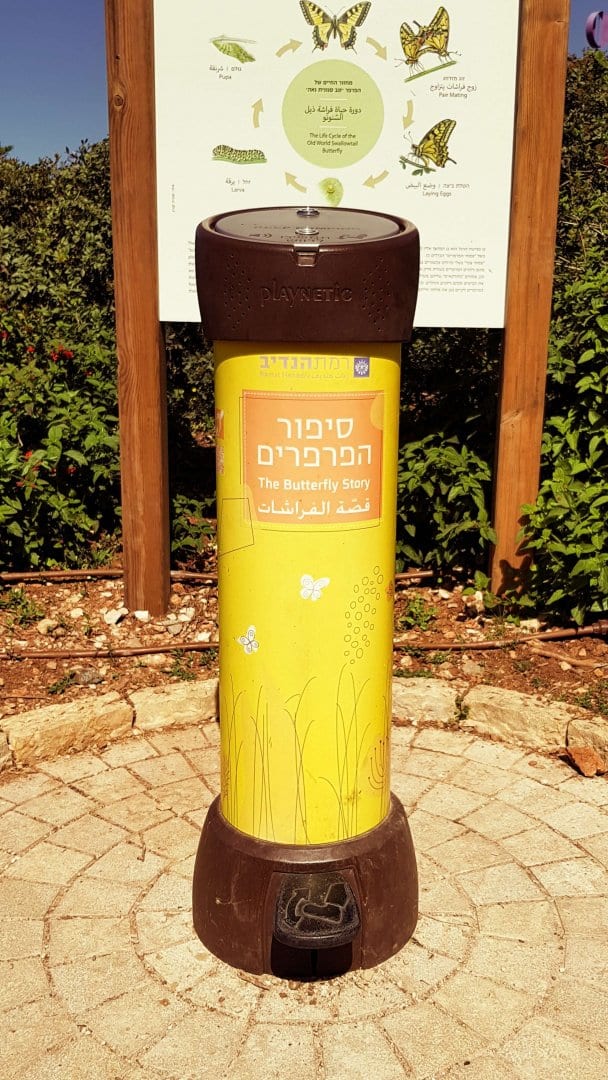 At the end of the Visitors Pavilion, past the restaurant, is a unique, colorful garden, rich in colorful nectar-rich flowers, and shaped like a giant foot. The Footprint Garden was designed as a large butterfly garden rich in nectar-rich plants and host plants that the butterflies can lay their eggs on; the larvae (caterpillars) feed on the host plants' leaves and the butterflies enjoy an abundance of nectar when they leave the pupa and spread their wings into the great big world.
In the garden stands a personal pedaling device that tells the story of the butterfly's life cycle. While pedaling, you can listen to a conversation between a girl and a butterfly that will teach you interesting facts about the butterflies in our country.
Here is an excerpt from the conservation:
Butterfly: Hi everyone and welcome to the Butterfly Garden!
Girl: Who said that?
Butterfly: It's me, the butterfly! You're standing in a very special butterfly garden.
Girl: What makes it so special?
Butterfly: This garden is filled with plants that butterflies like. We're attracted to the bright colors and sweet smell of the flowers and we love their nectar.
Girl: How do you drink the nectar?
Butterfly: We stand on the blooms and use our proboscis to suck the nectar out of the flowers.
Girl: Just like I drink juice through a straw!
Butterfly: Exactly!
Girl: Tell me more…
Butterfly: We go through a few different stages during our lifetime – …
For the rest of this information-rich conversation, you're welcome to visit the garden and pedal.
Of further interest...
Accessibility
Physically Disabled in the Gardens
Many trails traverse the Memorial Gardens. We recommend this route, but you
can choose to walk another route.
For further information >>
Sustainability
Horticultural Therapy at Ramat Hanadiv
Many studies have demonstrated the link between a green environment, nature or flowering gardens and feelings of calmness and serenity, enjoyment and vitality
For further information >>