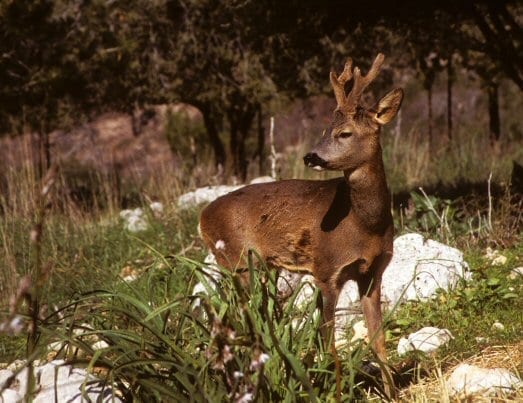 Reintroducing the Roe Deer to Nature
As part of the efforts to reintroduce animals to nature, on 10 March 1997, seven roe deer from the Hai-Bar Carmel breeding nucleus were released at Ramat Hanadiv. This reintroduction was accompanied by radio telemetry to characterise their movements and monitor their survival.
The roe deer had been gradually decimated throughout the Mediterranean region, in which they were common. Hunters sold the deer's meat and their antlers, which were used for combing wool and as decorative hangers in the houses of the rich during that period. The last roe deer population survived on the Carmel, which was relatively dense – but it was eliminated in the early 20th century by mass hunting organised by a German butcher from Haifa.
The last roe deer was shot in 1912 by Mustafa Bustanji, a hunter from Isfiya, at the request of Yisrael Aharoni, the 'first Hebrew zoologist'. Aharoni's request reflected the belief of early 20th-century zoologists that 'nature is endless', and therefore there is no obstacle to hunting animals in order to stuff them and keep them in museums or use them for research purposes.
The roe deer was the last large mammal that disappeared from Northern Israel; according to the guidelines of nature conservation organisations around the world – the one that disappears last is should be the first one to be reintroduced to nature. However, reintroduction of deer to nature is a very complicated project, since it is very difficult to maintain them and get them to breed in captivity. In zoos, many deer die during the first year, probably because we do not know how to provide them with the types of food and minerals they obtain in the wild.
In February 1998, a pregnant female roe deer was hunted illegally. She was identified as one of the six deer that were released in 1997. The collar with the transmitter, which was attached to her neck, had been cut off and thrown into the nearby river