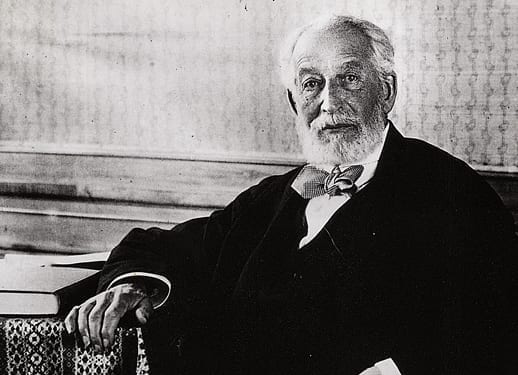 Baron Edmond De Rothschild
Baron Edmond Binyamin de Rothschild (1845-1934) played a significant role in shaping the fate of the Jewish people and the history of the Yishuv (the pre-State Jewish settlement in Eretz Israel). He was the third son of James (Ya'akov) and Betty (Batya) Rothschild, who headed the Paris branch of the family.
Edmond received a traditional Jewish education in addition to his general, universalist schooling. He was known as an art lover and, among other things, created a valuable collection of drawings and prints, which was ultimately acquired by the Louvre. In 1868, at the age of 23, he joined the family business, and at 32 married his cousin Adelheid (Ada), who fully shared his endeavours and his vision. Like his parents, Edmond was active in charitable works for the Jewish community. His support of the Yishuv began in the 1880s and became his life's work, filling most of his following years.
At the time of his initial involvement, the first Jewish colonies established in Eretz Israel by the Hovevei Zion movement were in a state of financial collapse. Their representatives turned to the Baron for urgent assistance to save the pioneers on the land. Edmond agreed to fund all the expenses of the colonies Rishon le-Zion, Zichron Ya'akov, and Rosh Pina; he also sponsored Mazkeret Batya (Ekron) and aided other settlements that were not directly under his auspices.