On the Roof: Creating Clean Energy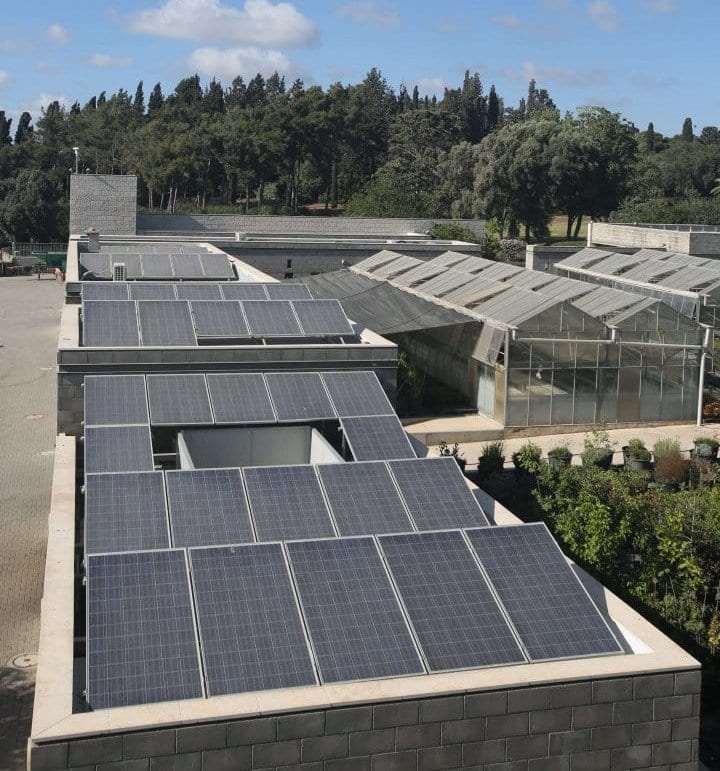 The energy that comes to us from the sun is an alternative source of clean and reliable energy. Without doubt, Israel is blessed with many days of blazing heat, making it possible to produce electricity here most of the year through the use of photovoltaic (PV) solar panels.
This innovative electricity system, installed recently at Ramat Hanadiv, is based upon a group of solar panels containing numerous photovoltaic cells. The panels are connected to an inverter box. When sunlight and radiation hit the solar panels, direct current (DC) electricity is produced by the PV cells and sent to the inverter, where it is converted to the alternating current (AC) electric system which supplies the national electric grid.
The solar energy system is installed on the roof of a building in Ramat Hanadiv's maintenance area. An electric (production) meter keeps tabs on the use and production of electricity, which translates into debits and credits in the electric bill.
A monitor on the wall of the building provides real-time information on the system's output. Additional information about the output is available via internet. If the electricity produced exceeds what Ramat Hanadiv consumes, the value of the excess streamed into the electric company's grid will appear as a credit on Ramat Hanadiv's electricity bill. The result: financial savings, clean energy, and a significant contribution to the greening of Israel's environment.
Of further interest...
Accessibility
Memorial Gardens Main Entrance
The main entrance to the Memorial Gardens – located next to the Visitors Pavilion. In the entrance plaza are temporary exhibitions on a range of subjects promoted by Ramat Hanadiv
For further information >>
Sustainability
The Footprint Garden
The term 'ecological footprint' is taking shape in the western part of the Visitors Pavilion. A large gardening plot shaped like a foot lies in the middle of the area, with the heel pointing north, and the five toes, as one unit – to the south.
For further information >>
Dining Here
Dining-The Picnic Site
The picnic area is located near the secondary parking lot. You are welcome to spend time there before or after your tour of the Gardens.
For further information >>